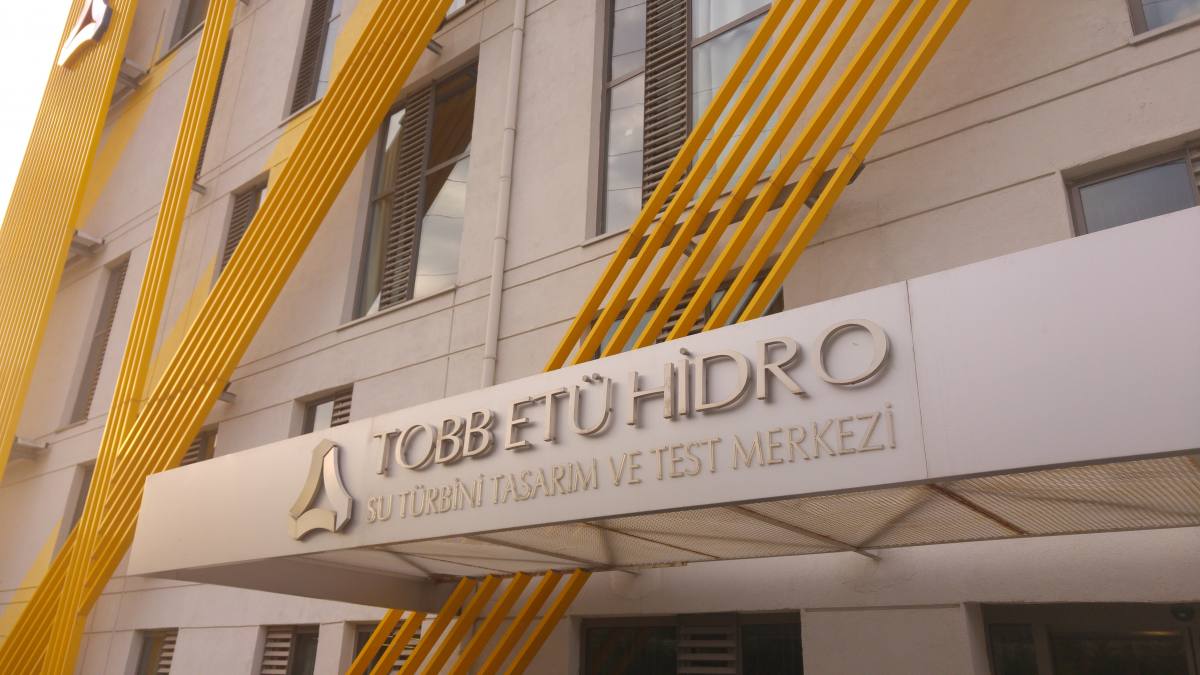 HIDRO, Water Turbine Design and Test Center is an independent research laboratory specialized on water turbines, which play a critical role in power generation in hydroelectric power plants. The center, which is part of the TOBB University of Economics and Technology, carries out activities on various subjects from the design to the testing of water turbines. Improvement with reverse engineering, hydraulic and mechanical turbine design, model turbine tests in IEC 60193 standard, turbine manufacturing and commissioning in the field are some of the study subjects.
In the center, there are two-way pumps made of stainless body and suitable for serial and parallel operation. Frequency-controlled speed adjustment can be made from 5 Hz to 65 Hz in pump motors. Single pump capacity at rated duty point; 1 MW power, 80 m head and 1 m3/s flow. There is a generator that can produce up to 2 MW of power, has frequency control from 5 Hz to 65 Hz, can operate in two directions, and a hydrostatic generator bed designed according to special load requirements. Electromagnetic flow meters, differential pressure measuring devices and many digital and analog measuring instruments that meet special needs are also available.
The center consists of three main units; The relevant units, their activities and capabilities are given below.
Computer Aided Design Laboratory
It includes the design offices and the high performance computing station. In this unit, mechanical and hydraulic designs of hydraulic turbines are made. Three-dimensional models are studied parametrically and these models are improved by using optimization methods. Designs are carried out with high capacity workstations. Afterwards, the turbine designs are finalized by completing the simulations at the high-performance computing station for design verification.
| | |
| --- | --- |
| | Computer aided design office |
Turbine Manufacturing Laboratory
It includes the manufacturing workshop and the quality control office. The workshop is equipped with two computer-controlled production benches (CNC). Models of the turbines whose design has been completed for testing and some full-size turbine components can be produced in the center. Turbine components produced with high precision by technicians are directed to the quality control office after manufacturing. Here, production controls are completed using a coordinate measuring device (CMM) and different measuring equipment.
DMG Device

DMU 65 monoBLOCK

Max. travel: 735mm

Max. travel: 650 mm

Max. travel: 560mm

Max. table load: 1,000 kg

Table diameter: 650 mm

Mazak CNC Machine

INTEGREX i-200ST (1500U)

It is a turning center machine designed with the latest technology, blending flexibility and performance like a work of art, which is both environmentally friendly and energy efficient.

CMM Device

Model Turbine Wheel Production Phase

Model Turbine Adjuster Blade Quality Control

Model turbine wheel produced in accordance with the prototype turbine designed for Kepez hydroelectric power plant within the scope of MİLHES Project.

Model turbine wheel produced in accordance with the prototype turbine designed for Kepez hydroelectric power plant within the scope of MİLHES Project.

Production phase on DMU 65 monoBLOCK CNC machines

Production phase on DMU 65 monoBLOCK CNC machines
Water Turbine Model Test Unit
Although they go through design and analysis processes using advanced numerical methods, it has great importance to verify the behavior of turbines in real conditions with experimental methods, especially in high power turbines, in order to prevent undesirable costs. The Water Turbine Model Test Unit contains the world's highest test power capacity experimental setup established for this purpose. This setup enables the investigation of performance criteria (flow rate, head, torque, power and efficiency) and cavitation characteristics of the turbine to be used in reality on reduced models with simulation methods. Data from a large number of electronic measurement equipment, all of which can be calibrated within the relevant unit, are instantly transferred to the central control system. These data are observed during the test and various equipment such as motor, pump and bearing are checked by engineers and test studies are carried out. The experimental setup has been designed in such a way that it can perform all kinds of test stages in accordance with the IEC60193 standard. Below is a view of the model turbine and test setup, which was assembled before the test.
| | |
| --- | --- |
| | MİLHES Project Model Turbine (Pre-Test) |